The cofounder of Six Foods—makers of cricket chips—discusses how eating bugs can be healthy, sustainable, and yes, delicious.
Six Foods is on a mission to help the world to embrace bugs—by eating them. The startup's three cofounders, Harvard grads Rose Wang, Laura D'Asaro and Meryl Natow, have created quite the buzz with their debut offering, Chirps, which are chips made from cricket flour. With three times more protein and 40% less fat than a regular potato chip, Chirps are not only nutritious, but also sustainable. Producing a pound of cricket meat uses 2,000 times less water than producing a pound of beef, and creates 100 times fewer greenhouse gas emissions.
According to the United Nations, an estimated 2.5 billion people around the world eat bugs on a regular basis. If Six Foods has its way, you will, too. A highly successful Kickstarter campaign in 2014 gave the company the legs needed to begin manufacturing its line of Chirps, which come in Cheddar, Sea Salt and BBQ flavors. Here, Wang shares the company's journey with The Venture, and why eating creepy-crawlies isn't as scary as you might think.
I was in China when I tried my first bug. A couple of friends from school and I were walking around Wangfujing Street, the big touristy area in Beijing, and vendors were selling fried cicadas, scorpions and locusts on sticks. One guy in the group dared another to eat a fried scorpion, but he was too scared. So I was like, "I'll do it! If I eat it, will you?" That put pressure on them, so we bought three scorpions on a stick and each ate one.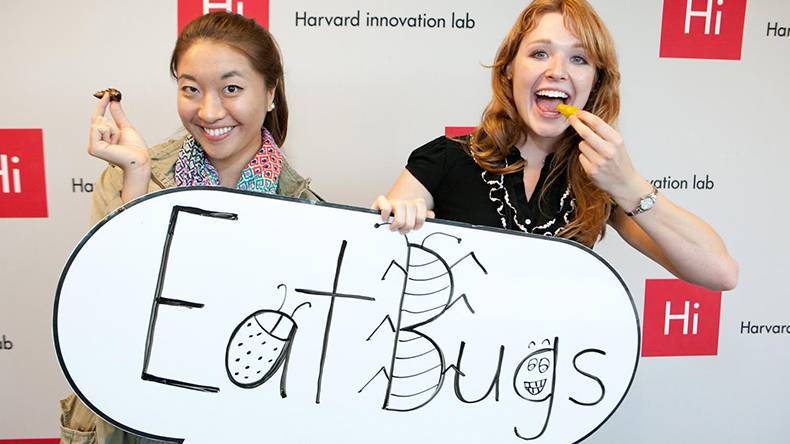 Trying the scorpion was kind of like a rollercoaster ride—the scariest part is right before you put it in your mouth. But the moment I started eating it, my first thought was it tasted like shrimp, and after that, it wasn't scary at all. In western cultures, bugs are framed as the bad guys, so that's how my mind had been conditioned. This was like exposure therapy—once you realize whatever fear you have is irrational, it pretty much goes away.
The funny thing is, Laura had a similar experience when she studied abroad in Tanzania a few years earlier. She tried a fried caterpillar there, and had the same reaction in the sense that she thought it tasted like lobster. I think both of our experiences were so jarring and eye-opening that they stayed in our minds.
Then in 2013, the U.N. Food and Agriculture Organization came out with a 200-page report about insects being one of the world's most sustainable protein sources, and why the world should be eating bugs. At that point I didn't know how much the meat industry affected our planet. The more I learned the more conscious I became of the issues. After I read the report, I was like, why aren't we eating insects? It didn't make sense, except culturally. It just opened a whole new door for us.
So then it just became a fun experiment of, how can we get people to eat bugs? We went to the local pet shop and got some crickets and worms, and fried them up and tried to feed them to our friends. We wanted to understand why people didn't want to eat them. But as soon as we brought the bugs out, people flipped out. I think one of my friends even fell off his chair in pure terror.
We didn't know what foods we wanted to make at first. We were just like, let's cook with bugs! Eventually we decided on a chip, where you can't see the bugs. We worked with a food pilot plant and a manufacturer to create Chirps, which are made from cricket flour, beans, non-GMO stone-ground corn, chia seeds, pea flour and seasoning. We settled on crickets as our "gateway bug" because they're grown at scale in the U.S., and because they're nutritionally dense. Also, I think we're much more amenable to crickets than other insects—Jiminy Cricket is really friendly!
Our Kickstarter campaign opened a lot of possibilities. Before that, Six Foods was just a fun project. I was going to go work at Microsoft full time, we all had our plans. But the campaign made us realize there's a real market here and that what we're doing resonates with people. To be one of the first movers in a new market has been exciting.
What I'm most proud of is, we were three college students, three women, who had an idea that everyone said was crazy. We had to call over 400 manufacturers before we found one that would work with us. That's a lot of no's, and it's only one of the challenges we dealt with. But it's been the most incredible experience.
For now, we're focused on the chips. But as our company grows there's definitely opportunity for us to develop other foods. Eventually, we want to get into protein replacements, too, like whey and even soy and meat. That's the direction we want to head in. The goal for us is to make eating insects fun and exciting. We don't want to frame it as "the world is ending, we should eat bugs." It's more like, this is a really cool protein source that's actually delicious. It's pretty simple.
Follow @TheVenture on Twitter for all the highlights from the competition, and the latest stories, ideas and individuals that are helping to shape our future.
No endorsement or connection is meant between those featured in this article and Chivas.