SUMMARY
MGov is a consulting firm that specialises in public policy management and social impact. We use mobile technology to better understand the demand for and evaluation of public services by speaking to those that they affect most, the people who use them. What sets us apart is our platform. We take advantage of the wide availability of mobile phones to use simple technology, like text messaging and automated voice calls – in contrast to the low penetration of internet and data plans – to give citizens a new voice. By gathering data on their behaviour and opinions, we are also able to send them accurate information that supports them in making important decisions. MGov's projects to date span social policy, education, health, urban mobility and civic engagement. This ground-breaking work has seen us recognised by the MIT Technology Review in 2014 as the most innovative social venture led by Brazilian under-35 entrepreneurs.
IMPACT
We allow people to express their demands for and assessment of public services directly, without intermediaries. We provide a low-cost way to rigorously evaluate the impact and effectiveness of alternative policies and for monitoring pilot initiatives with agility. This enables the fine-tuning of policies to closely match needs of those who benefit – and for large-scale civic engagement and empowerment initiatives. In 2014, our solutions positively impacted the lives of over 1,600,000 Brazilians by providing vital inputs to the design of higher-quality policies and social impact initiatives. In 2015, MGov started offering these solutions to a wider audience. We are already working with the city of Boston to support its participatory budgeting initiative, and our ultimate goal is to keep expanding in order to support governments and social impact initiatives worldwide.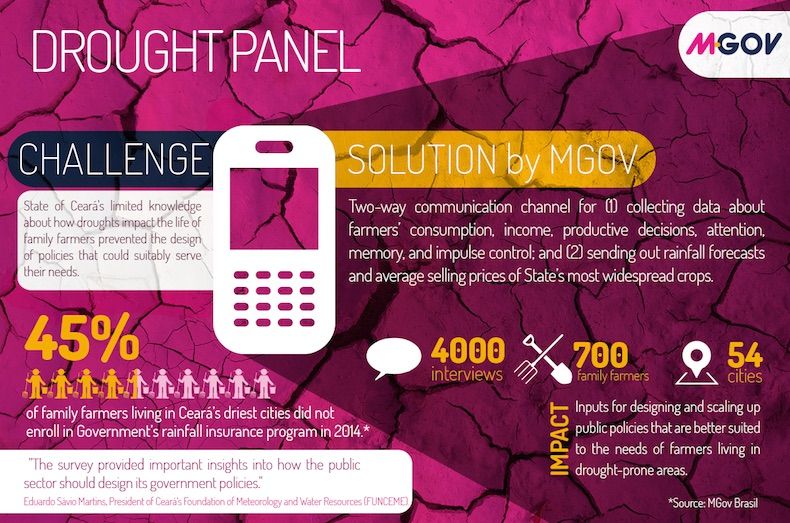 OUR VENTURE EXPERIENCE
Over the course of the next 18 months, we hope to consolidate our position as the best mobile platform for policy design and impact evaluation in Brazil, becoming the first social venture to work in scale with the government across all levels. We also hope to have a fully-fledged team of staff that will bring our impact to the next level, as we prepare to make a committed move to bring our off-the-shelf solutions to other Latin American countries, and our custom made products to governments, on all continents.
WHAT'S NEXT
We originally applied to the local stage of The Venture without even knowing the winner would qualify to represent Brazil in the global competition! This was the best coincidence in MGov's history! Besides being the focus of really valuable media coverage, we learnt a great deal about how we should rethink our strategy in order to maximize our social impact. Since then, we have focused on designing solutions that can be replicated and scaled-up anywhere in the world, and that can impact citizens directly, even if the government in question is not willing to take our conclusions on board. We are now in the process of raising funds to expand our team and the reach of our projects.