We're all about celebrating success – no matter how unconventional. Hustling hard and doing things on your own terms is a concept we're here to toast to.
This Women's History Month, we're shining the spotlight on some of the incredible women we work with. Women's success stories are in no shortage here; this influential group share our key Chivas values of not only reaching elevated levels of success, but sharing it and inspiring the upcoming generation.
We invited a talented group of mixed media artists who are changing the game in their fields to paint a picture of these women and their inspirational journeys.
Read on to find out more.
TAÍS ARAÚJO, PROFILED BY SAMANTHA WATSON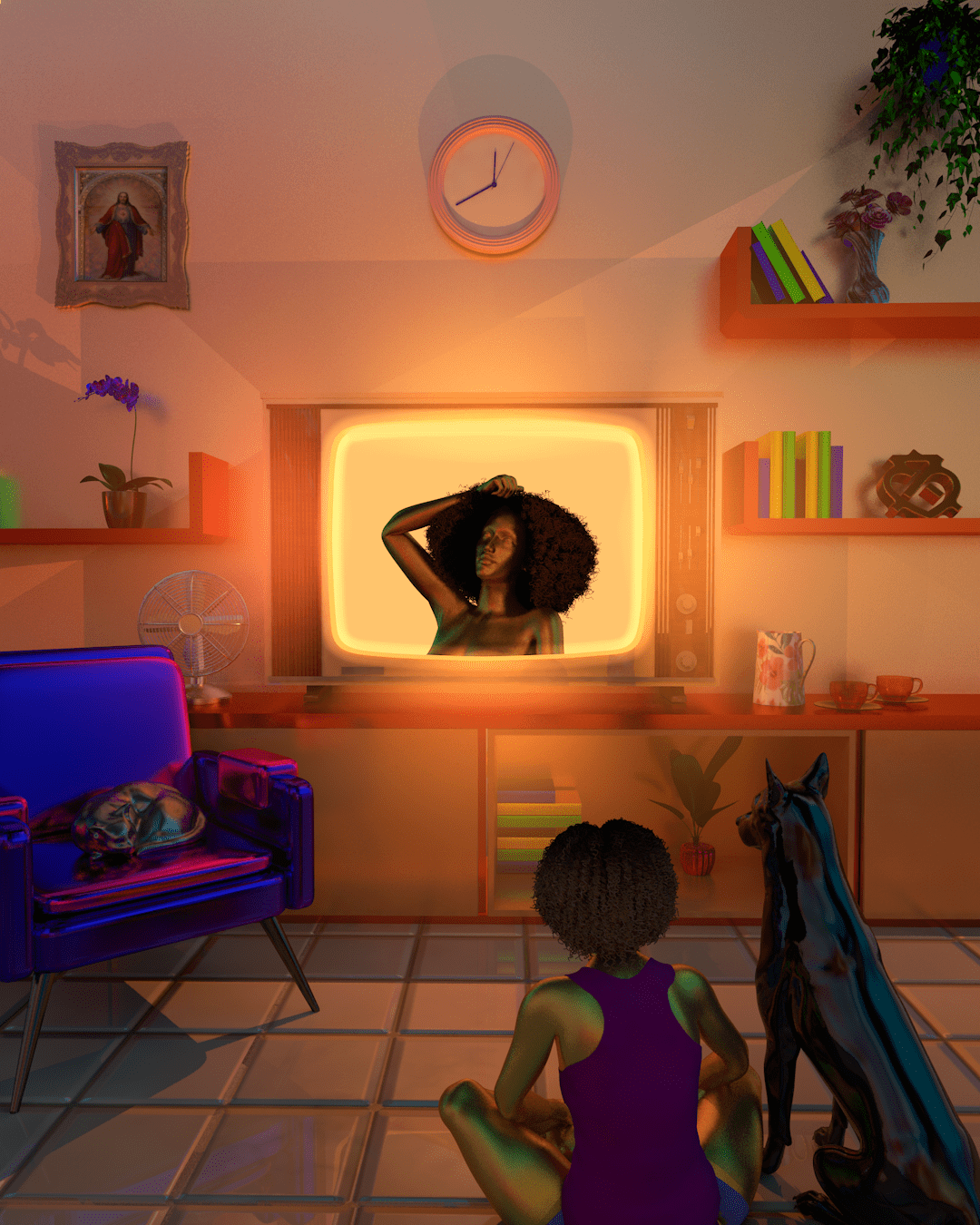 Brazilian actress Taís is a truly unstoppable force. The star of our Success is a Blend campaign in Brazil started her acting career at just 17 years old, later smashing boundaries and becoming the first black actress to star in a soap opera on prime-time TV – at the biggest TV network in the country. Alongside a career in TV, cinema and theatre (becoming a cultural icon in the process), campaigning for social matters has always been close to her heart. Refusing to shy away from important matters, she's raised big conversations on racism, social inequality and black activism.
Taís said:
"The future of female success for me means a chance to rebuild a story; a story where everyone has possibilities and opportunities. We are in a special moment of being able to re-think a world that we want to rebuild, correcting the mistakes of the past. We already learned that the patriarchy didn't work – for women or men. This world of new female success means we're going to look at everyone."
With female empowerment at the forefront of her creative practice, 3D artist Samantha Watson explores concepts of escapism, infatuation, and objectification while challenging society's idealisations of what is considered to be feminine. She said:
"I'm interested in the nuances of societal habits, the things that go unnoticed. I incorporated this theme into my piece with my depiction of a vibrant Brazilian family home. By representing comfort and a sense of community, I've portrayed Taís at the forefront of this to reflect where she sits in the country's collective zeitgeist. Taís is pictured in the television, a place where she started her incredible career. The use of bright colours represents the vibrancy that Taís emanates, bringing joy into people's homes. She represents both familiarity and aspiration for the young girl watching on her television, inspiring others with the multifaceted tonality of her powerful persona."
JADE LE FLAY, PROFILED BY HANNAH CLAIR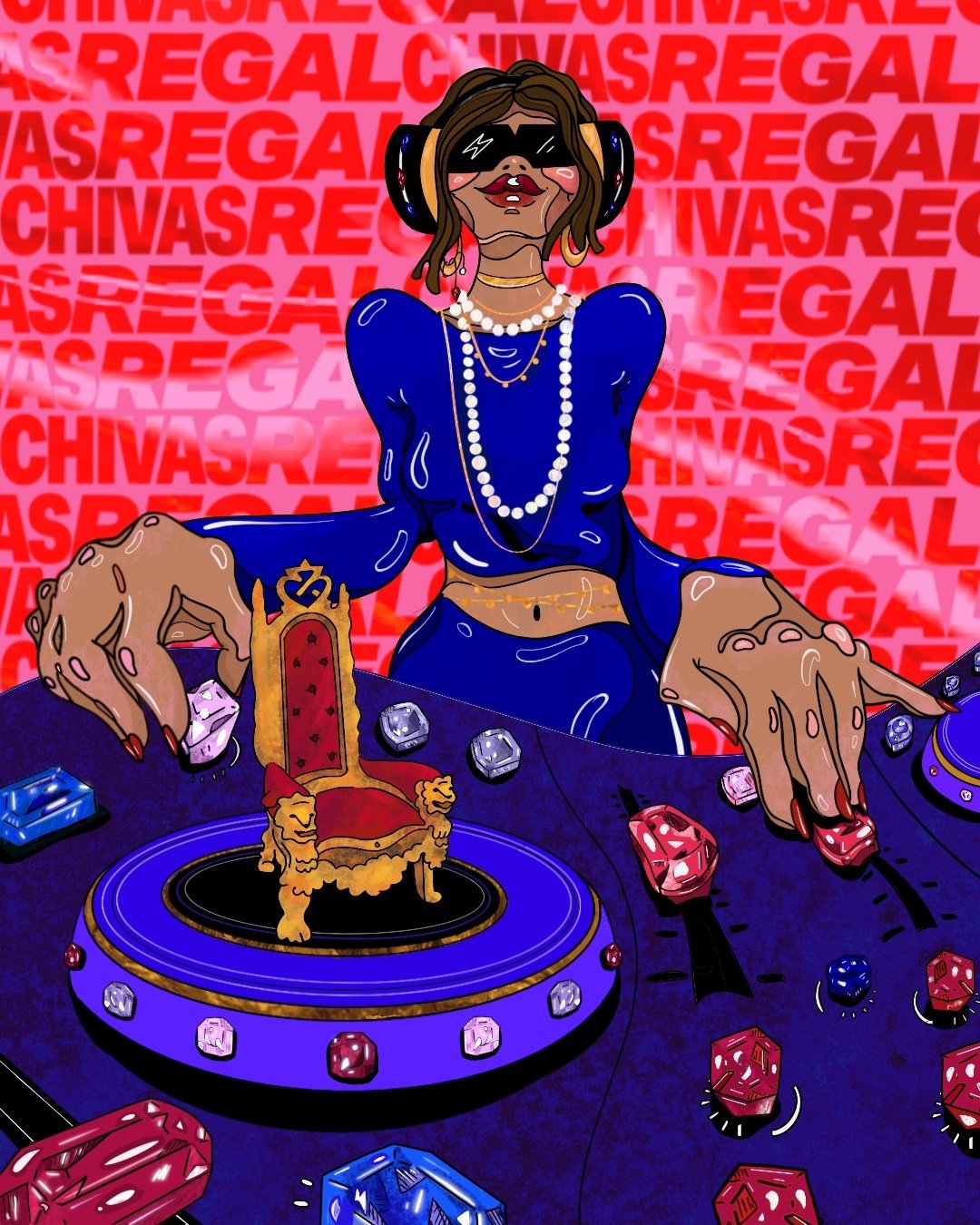 Born into a family of DJs, it was somewhat inevitable that Jade LeFlay would pursue a career rooted in the music industry. What no one could predict though, is the places she's taken this family passion to. Not only does the Australian DJ host events for the likes of Rihanna, Future and Anderson Paak (and DJ'd at the Balmain x Chivas XV launch in Australia), but she also launched a podcast 'Only with Jade Le Flay' which Spotify soon scooped up, and founded SELECTED, a local event supporting youth culture and the next generation of DJs.
Jade said:
"For me, true success is when a person honestly (and to the core) feels free; writing your own destiny and fighting for it like your life depends on it is the ultimate rebellious act and pathway to next-level success. Like many hard workers, I don't feel like I'm at a point where I deserve to celebrate but to ensure I congratulate myself on my wins, I treat myself to a day off at the beach or a dinner with friends. I also find ways to spoil people I love, because knowing I can make others happy is the ultimate celebration for me!"
Cartoon illustrator Hannah Clair loves seeing women unapologetically owning their talent in predominantly male-dominated industries. She said:
"I jumped at the chance to create a piece celebrating women who create! I'm inspired by talented women like Jade who are taking up well-deserved space in creative areas. I wanted to celebrate the strength, confidence and resilience it takes to pursue your dreams and succeed as a female creator. I wanted to capture the way women exude an incredible sense of power that is so motivating to myself and to many others."
SIBUYILE "SIBU" MABENA, PROFILED BY SOPHIE GOUDMAN-PEACHEY
The Chivas Venture in South Africa last year took the street-culture fashion space by storm, helping four young South African entrepreneurs kickstart their careers. None of this would have been possible without the help of Duma Collective, a youth cultural marketing agency that brought the Chivas vision to life. The founder and CEO of Duma Collective? Sibu Mabena, locally termed 'The Fixer', who's been putting in the hours since she was just 15 years old. Starting as an intern at two of South Africa's biggest dance competitions – while choreographing for and training the South African hip hop dance team in various European countries – she went on to spend time with VIACOM and MTV to progress her career within the entertainment and marketing industry.
Sibu said:
"To me, success means being happy with your achievements and being able to pay it forward; sending the elevator down for others to come up. I am successful only when I can help others achieve their goals as I achieve mine. I celebrate my success by living a life full of adventure, love, meaningful connections and fun!"
Sophie Goudman-Peachey is a multidisciplinary artist who reconstructs existing narratives surrounding women in society: both owning and reclaiming female strength and power, and revealing their vulnerability, femininity, androgyny and masculinity. Her work aims to empower women through their intersecting identities and allow space for women to be whoever they want. She said:
"Sibu once said in an interview: "People first. I will never choose profit over people". This really resonated with me because it's so important to uplift and grow with others, rather than stepping over each other. Sibu endeavours to build community and it's empowering to see that being put first. The multifaceted aspects of her personality inspired me; her vitality, fierce determination and self-belief."
CHARMAINE HAYDEN, PROFILED BY ELENI ZACHARIOU
Founder of five-times award-winning ethnic and curve modelling agency Face4music. Partner at GOODsoil VC (Venture Capital films). Founder of Goal Digger power circle. Presenter of a radio show reaching 300,000 people. One of Forbes' 25 Leading Black British Business People. There's a never-ending list of Charmaine Hayden's titles – which is why she was the perfect choice to present our SELF MADE series. Throughout her incredible career from music to tech start-ups, there's been one consistent throughout: a push for diversity. Beginning as one of the only women of colour in venture capital (and later becoming partner), even as a young businesswoman she placed a high level of importance on diversity and now invests in start-ups with founders who are women, people of colour, LGBTQ+ or otherwise disenfranchised.
Charmaine said:
"Female success is the foundation for a truly gender neutral future. When we have more women in positions becoming decision-makers and powerhouses it allows for change from the top down. I think success happens when you identify and live out your purpose, feeling fulfilled as a result. For me, my purpose is to motivate, inspire, and engage young talent and to create a meaningful impact on the lives of people around me. Being the star of my own art piece is a truly humbling experience!"
Eleni Zachariou, a multidisciplinary artist who uses speculative fiction as a tool for (re)imagining and querying political and cultural systems, was inspired by Charmaine's ethos and drive. They said:
"To me, Charmaine's success is based on nurturing, uplifting and helping close the gap for people from disenfranchised groups. Because of the breadth of her accomplishments I imagined this artwork as a metaphor for her work. Her hand reaches down to encourage growth and to meet the life growing through the cracks in the pavement; thriving and finding a way no matter what. I used an unrealistic perspective to represent a clear horizon, the openness of the future, and the heights to which Charmaine and all the people she has helped have soared."
ZOE ZHENG, PROFILED BY ALICE SANDERS
Leaving the bartending to the men has never been something Zoe Zheng was willing to do. Beginning as an apprentice in 2012 at Mokini in Beijing, her mixology talent would one day lead her to co-founding her own bar, Mokihi-1%er. Zoe has picked up her fair share of awards along the way – including World Class Competition Champion in 2013 – and even became the first female candidate of the Chivas Masters in 2016. Now, her wealth of experience has led her to switch to the judging side of the table, having had a seat on the panel of the Drink Magazine Bar Awards since 2016.
Zoe said:
"Future female success for me means a fairer and safer society, with more opportunities for women. Success for me personally is to not just take good care of myself and achieve my dreams, but also to share my experience and help support my relatives and friends around me."
A multidisciplinary artist focusing on social topics such as sustainability and feminism, Alice Sanders sees success as breaking down the stigma of gendered work roles. She said:
"The first thing that I noticed about Zoe was her bow tie – I loved it! It's such a classic look and really inspired me to further delve into this territory. I think the bow tie is a good reflection of how male-focused the industry really is, and I wanted to explore this in a way that was authentic to Zoe: badass and full of satire!"
SIAN ANDERSON, PROFILED BY EDITH LEBLANC
Sian Anderson is a media powerhouse. Refusing to follow the traditional path to success, Sian's career doesn't exist in just one industry. Music was the big one for our SELF MADE star; after starting out as a radio presenter, she's since played key roles in the careers of music giants P Money and Ed Sheeran, been a part of Parlophone records and now runs her own record label Saint Music. On top of presenting and DJing, Sian is a freelance journalist for a number of well-respected publications and even released her own cookbook last year. All that isn't even it – Sian has a passion for supporting the next generation and runs youth mentoring programme Nexxt Step (supported by the Mayor of London), Girls Talk About Events to empower women, and also launched – and mentors for – FLOOR SIXX Music Academy.
Artist Edith LeBlanc has been creating Sims based on real-life characters for almost three years. She said:
"I was so inspired by Sian's looks, but also her lifestyle and professional achievements. She's the kind of character I would love to play in The Sims! She's accomplished wonderful things at a young age, in a field of work where gender equality isn't always put forward. To me, she's the definition of what Women's History Month is all about: taking action for equality and asking for a word free of bias and discrimination."