Oops, it looks like this browser is no longer supported or has retired. For the best Chivas.com experience we recommend upgrading to Microsoft Edge.
Try the Edge Browser
Chivas Regal
Limited Edition Blended
Scotch Whisky Gift
Introducing the Chivas Regal 2020 Limited-Edition collection. Combining bold tones with impactful words, this Chivas special edition range heroes the unique identities and flavours of our blended Scotch whiskies. The perfect gift for the whisky-lover in your life.
We collaborated with urban artist duo Andreea Robescu and Andrei Robu to bring the power of blending to life. The pair combined bold tones with impactful words to create a truly vibrant design. This Limited-Edition blended Scotch whisky range celebrates the unique personality and tasting notes of our blends.
THE BLEND
Chivas Regal 12 Year Old is a blend of the finest malt and grain whiskies, with Strathisla single malt at the heart. Smoothness and generosity sit at the core of Chivas 12 Limited-Edition whisky – savour the creation of something extraordinary.
THE TASTING NOTES
Wild herbs, heather, honey and orchard fruits dance on the palette alongside honey and butterscotch notes for a rounded and creamy taste
THE BLEND
A portion of Chivas Extra 13 Year Old Sherry Cask Limited-Edition whisky is selectively matured* in Oloroso sherry casks to bring a world of flavour to your favourite whisky fan. Rich and intense, this is a blend that delivers with every sip.
THE TASTING NOTES
A rich combination of vanilla caramel and sweet ripe pears in syrup lie inside every drop, with notes of cinnamon sweets and crisp almonds laced throughout.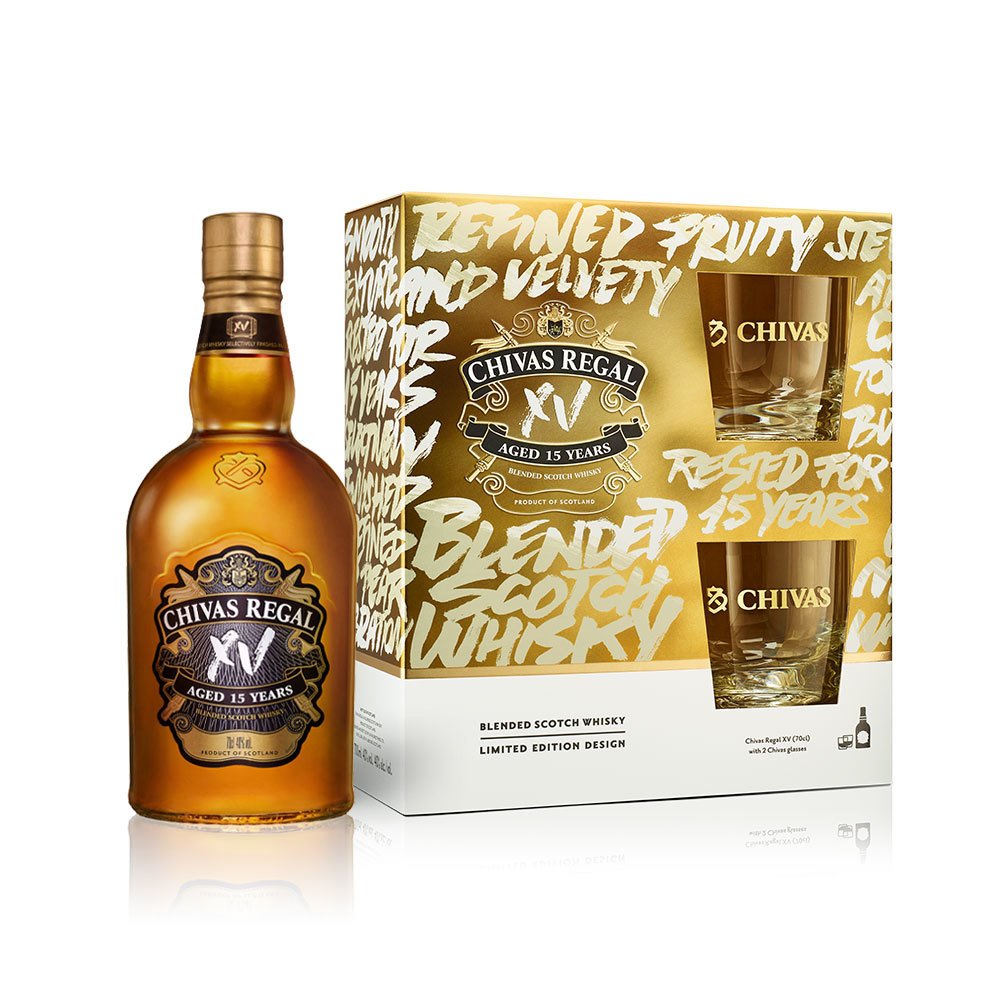 THE BLEND
Celebrate luxury with our Chivas XV Limited-Edition whisky. A 15-year-old blend that's refined, fruity and velvety, a portion of this blended Scotch whisky is selectively finished in Cognac casks for something truly special.
THE TASTING NOTES
Rich and sweet, stewed red apples and homemade orange marmalade appear on the nose, giving way to butterscotch and caramel toffees rolled up in a luxurious velvety texture.
YOU MIGHT ALSO LIKE