The sustainable, versatile plant is being used to construct everything from homes in Bali to bicycles in Ghana.
It wasn't too long ago that Bali-born Elora Hardy was living in New York City, enjoying a successful career designing fabric prints for Donna Karan, one of the world's leading fashion houses. It's a position many ambitious designers aspire to have, but Hardy gave it all up for a different calling, one that fulfilled her desire to be part of a greener industry.
"I needed to do something that fit in with the way I hope the future will be," Hardy told The Venture. "That meant using sustainable materials, something that I couldn't find access to in the fashion world at that time."
So, in 2010, she quit her job, returned to her childhood home in Indonesia and founded Ibuku, which stands for "my Mother Earth" in Indonesian, an environmentally conscious architectural firm that builds bespoke bamboo homes in Bali.
The New Bamboo Boom
The former designer was inspired to launch Ibuku after visiting the Green School in Bali, an academy constructed almost entirely from bamboo, and founded by her father, John Hardy.
"I was blown away by the beautiful designs that the team who built Green School had come up with," recalls Hardy, who is also Ibuku's creative director. "Even though I had no architectural, construction, or business training, I felt I had to find a way to keep that new art form going."
Encouraged by what she describes as the "unparalleled sustainability of bamboo," Hardy thought it made perfect sense to use it for building. At the same time, she also wondered why companies weren't utilizing this readily available resource more widely. After all, bamboo is lightweight and flexible, and some species are as strong as steel by weight, and as resilient as concrete. A type of wild grass, bamboo can also grow naturally all over the world in almost any type of soil, even where other crops fail. And with a short, three-year growth cycle, it's a rapidly renewable resource. Not to mention, Hardy adds, "it's beautiful."
In actuality, people in the tropics have been building with bamboo for thousands of years, but until recently, it proved challenging to reliably protect bamboo from long-term environmental weathering and insect damage.
To address these concerns, Hardy and her team use a boron-based solution technique to treat the bamboo prior to building, which should enable the structures to last a lifetime. So far, the firm has designed more than 50 unique structures made from locally harvested bamboo in Indonesia, including the stunning Green Village resort. They're looking towards several overseas projects as well, Hardy reveals.
"We are opening hearts and minds to see that innovative sustainability is beautiful, desirable and durable," she says.
A Natural Choice for Builders
Hardy isn't the only one who imagines a world bursting with bamboo buildings. Penda, an architecture firm based in Beijing and Vienna, envisions an entire city erected from the green stalks.
In 2015, the studio debuted their "Rising Canes" pavilion, a prototype of a sustainable housing system constructed using nearly 200 canes of interlocking bamboo and rope. Because of the modular design, Penda co-founder Chris Precht tells The Week, the structures allow for adaptability. That means they can be quickly assembled for use as shelter during an emergency, or scaled up to build a multi-story apartment building. Or, as mentioned above, a whole city.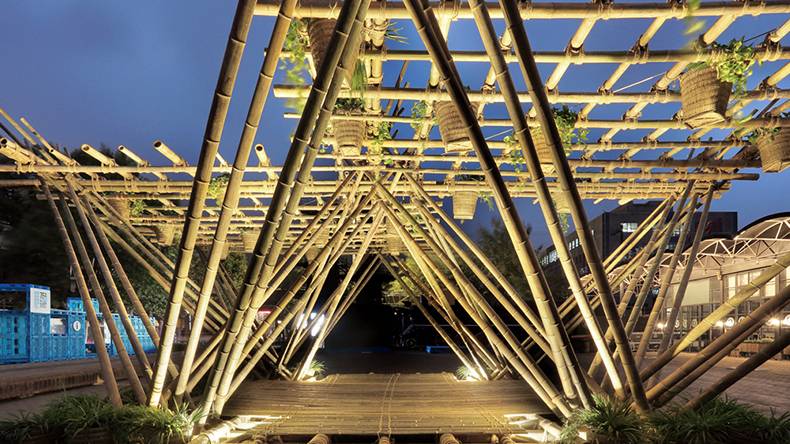 "As the modular system is able to extend in every direction, it forms new joints that strengthens the structure as a whole," Penda states. "For every bamboo cane used as building material, two new trees get seeded to a surrounding bamboo grove to ensure material supply."
The architects predict they can build a home using their modular bamboo system for 20 families in just nine months, and hope to build a settlement that can accommodate 20,000 people by 2023.
Cleaner, Greener Cycling
Meanwhile, in Africa, one social enterprise is working with bamboo on a smaller scale, but garnering just as positive an impact, environmentally, socially and economically. The Ghana Bamboo Bikes Initiative creates job opportunities in the country's rural areas by training young Ghanaians in the craft of building sustainable, high-quality bamboo bikes for local use and international export markets.
Founder and CEO Bernice Dapaah's idea for the green venture was inspired by another initiative, one that explored ways to help lift bamboo producers out of poverty—and in part by her own bleak career perspectives, even as she was graduating from college with a degree in business administration.
"There's a lot of unemployment in the country and we didn't want to just follow the masses and look for white-collar jobs," Dapaah tells The Guardian. "We wanted to come up with an idea that would also create employment for other youth."
And so the Ghana Bamboo Bikes Initiative was born. Based in Kumasi, in southern Ghana, the organization has already trained and employed more than 35 young people, providing them with the skills to manufacture, assemble and repair bamboo bikes. Two new workshops have also been established in the Brong Ahafo region of Ghana, adding 50 more employees. The hope is that they'll take what they've learned, and train and employ others as well, encouraging a new generation of entrepreneurs.
Today, the eco-friendly bikes can be found all over the world. But it's in Ghana where it's making all the difference. Says Dapaah, "My favorite part of the job is when I go to the workshop to see the youths and know they are able to earn a living."
Photography credits:
Hero image - Sharma Springs: Photography by Rio Helmi.
Green Village. Photography by Rio Helmi.
Green Village: Photography by Isabella Ginanneschi.
"River House" at Green Village: Photography by Errol Vaes.
Rising Cannes: Photography by Xia Zhi
Follow @TheVenture on Twitter for all the highlights from the competition, and the latest stories, ideas and individuals that are helping to shape our future.
No endorsement or connection is meant between those featured in this article and Chivas.