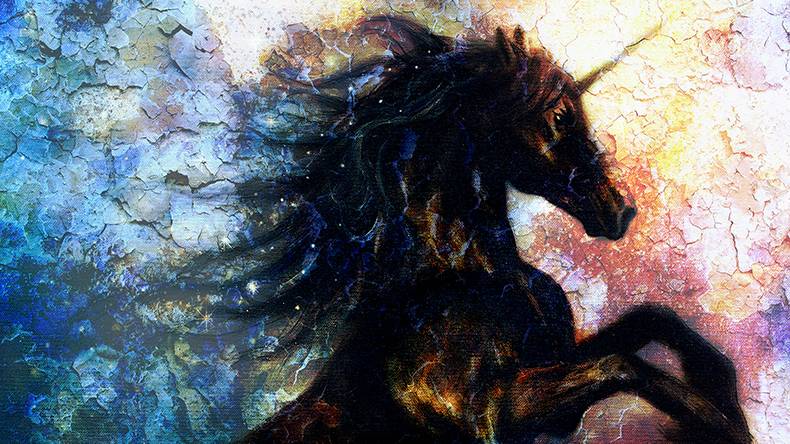 Here's a closer look into rise of so-called "unicorns", the startups valued at over $1 billion.
It's a Silicon Valley fairy tale with a name to match. The term unicorns, used to describe startups that have attained values of $1 billion or more, has exploded in usage among investors and market watchers in recent years. Just last month it was announced that office collaboration software company Slack had raised $200 million in new financing to pump its value up to a cool $3.6 billion. The so-called Unicorn Club features other big-name companies such as Uber, Snapchat and Airbnb, as well as some lesser-known businesses making a big splash. But is all this success too good to be true? Some tech industry experts are anticipating a bursting of the unicorn bubble. Others see a long line of startups nearly ready to join the ranks of the unicorns. Here's a closer look at this exclusive—and opinion splitting—club.
Where does the name come from?
The Unicorn Club was a concept first developed by Aileen Lee and her partners at Cowboy Ventures. Cowboy is a venture capital firm that seeks out seed-stage technology companies to invest in and help grow, and its current crop of companies includes Dollar Shave Club, Pantry and DocSend. Lee has an extensive background in investing and operating, having held operating roles at The North Face, Gap and Odwalla.
In a 2013 article for TechCrunch, Lee introduced the tech community to the 39 companies that she and her associates had identified as unicorns. Those at Cowboy offered a very specific definition of unicorns: U.S.-based software companies started since 2003 and valued at over $1 billion by public or private market investors. According to Lee, they represented only ".07 percent of venture-backed consumer and enterprise software startups." These companies, which included Facebook and Twitter, were as special as the mythical creature they were named after. "It's really hard, and highly unlikely, to build or invest in a billion dollar company. The tech news may make it seem like there's a winner being born every minute — but the reality is, the odds are somewhere between catching a foul ball at an MLB game and being struck by lightning in one's lifetime," Lee and her team concluded.
Who are the unicorns?
Today, Fortune creates the definitive list of unicorns, defining them simply as private companies valued at $1 billion or more. Currently, the ever-expanding list features 174 companies from dozens of industries and 17 countries. To show just how different these businesses can be, here are a few unicorns of note.
Uber, the high-profile ride-sharing business, boasts a valuation of $62 billion—$16 billion more than any other unicorn. Using a low-cost business model to connect drivers and those in need of a ride, Uber has completely upended the taxi industry since being founded in March 2009.
The Unicorn Club's newest member is iCarbonX. The Chinese healthcare data-mining company launched in October 2015 and, after it received $155 million in its first round of fundraising, officially hit a valuation of $1 billion on April 12. Expectations have been high since the beginning: Three days after the company launched, China Daily published an article titled "Is iCarbonX the next Google in Biotech?"
Businesses with social missions are also members of this elite club. The Honest Company, the eco-friendly consumer goods startup co-founded by actress Jessica Alba, was most recently valued at $1.7 billion. And Warby Parker, the eyewear company with a buy-one-get-one model, is valued at $1.2 billion. Both are Certified B Corporation, companies that they are committed to meeting "rigorous standards of social and environmental performance, accountability, and transparency."
Is the bubble about to burst?
Venture capital firms don't want to miss out on the next big thing, which explains how these unicorns get such high valuations, even before they're profitable. Investors have shown their willingness to take significant financial chances on young companies, but some are concerned that the initial boom may soon go bust. If the numbers are any indication, things could indeed be slowing down: Financing for startups fell 8% in the first quarter of 2016. A recent story in Fortune predicted a bursting of the tech bubble. "It appears that a reckoning is coming in the tech world," wrote William D. Cohan. "The combined value ascribed to the unicorns by their investors is a stunning $585 billion—an especially astonishing figure given that so many of them aren't even close to profitable."
Many of those who are closest to the action, however, see no reason to panic and have faith in the potential of these innovative businesses. In fact, they believe it's time to double down on tech's most promising startups. At February's Startup Grind Global Conference, influential venture capitalist Marc Andreesen took to the stage and called for even more money to be poured into startups. "It's a large amount of money from an absolute standpoint...but it's a very, very small amount of money from a global context," Andreesen said of the $50 billion invested in private companies every year. Only time will tell if the hype will turn into profit or failure, but it's a safe to say that unicorns are more than just a fantasy.
Follow @TheVenture on Twitter for all the highlights from the competition, and the latest stories, ideas and individuals that are helping to shape our future.
No endorsement or connection is meant between those featured in this article and Chivas.