Today wasn't your average Wednesday. Today, five of our semi-finalists made it through to the live final of the Chivas Venture 2017, taking place tomorrow in LADC Studios, South Central LA.
Before the suspense reaches breaking point, it's time to reveal our final five social entrepreneurs in all their glory.
A huge congratulations to the following finalists:
Álvaro Vásquez, Bioestibas
Bioestibas produces ecological stowage made with flower waste that would normally be polluting the environment. Today the production of pallets for industrial needs causes 40% of global deforestation. At the same time flower growers around Medellin, Colombia, generate over 9,000 tons of flower stems per month. These stems are incinerated, causing huge environmental pollution. Bioestibas aims to solve these two problems through ecological pallets.
Chioma Ukonu,RecyclePoints
RecyclePoints is enabling individuals, particularly from low-income households, to create value from their everyday waste. Operating an incentive-based model which collects recyclable waste materials from registered households, RecyclePoints rewards them with points which they can accumulate and redeem for cash or other useful items offered through the iRecycle Store.
Peetachai Dejkraisak, Siam Organic
Currently Thailand's 17 million rice farmers have the highest costs and lowest yields of all countries in Southeast Asia. They earn an average of just 40 cents a day, six times below the poverty line. Siam Organics created the Jasberry brand to help farmers unlock the global market for healthy organic products. Providing them with training on internationally-certified organic farming methods, Siam Organics enables farmers to increase their earnings by 14 times.
Son Preminger, Intendu
Hundreds of millions of people worldwide suffer from brain impairments caused by traumatic brain injury, strokes, diseases or aging; yet due to the high cost of rehabilitation therapy, they are often sent home without any tools to continue their cognitive training once they have left the hospital. Intendu have developed a videogames platform specifically designed for brain training. The games involve dynamic scenarios and body movement that mirror real life, and their technology adapts in real-time to the user's needs.
James Steere, iDrop
iDrop installs purification and dispensing units at the point of sale. Shoppers refill water containers, reducing plastic waste, and it is very affordable – up to 80% cheaper than bottled water. Meanwhile, the water supply comes at no cost to retailers, and iDrop monitor units remotely to keep maintenance costs low. iDrop split revenue with retailers, driving economic activity in local communities.
How did it all happen?
Allow us to take you back to the start of day three. After a breakfast of champions, our ten semi-finalists each took to the stage to wow our six semi-final judges with their pitch. Feeling confident and poised after their quarter-finals prep, the atmosphere was charged. And with some new faces on the judging panel, this was our entrepreneurs chance to put their game-face on and impress like they've never impressed before.
Who was judging?
Joining us from the last round was Sonal Shah, Bridget Hilton, Conor McQuaid and Laurent Laccassagne. In addition, we welcomed two women who have dedicated their careers to social good; Leila Janah and Patricia Ricard.
Leila Janah, dubbed serial social entrepreneur, is an inspirational figure for our Chivas Venture finalists – and let's be honest – the world. She's the founder and CEO of SamaSource and LXMI; two companies that share a common mission to end global poverty by giving work to people in need. On top of this, Leila is the co-author of America's Moment: Creating Opportunity in the Connected Age. (Just writing that made us feel tired!)
We caught up with Leila to discuss this year's competition and the finalists' prospects in the business world:
"Every one of the businesses we saw today – precisely because of the number of hurdles they've already had to cross – are absolutely viable and scaleable. I lost several pitch competitions when I was going through the process and now have a profitable business, so I think even getting to this point is a great indication of good things to come. I've been tremendously impressed with the calibre of the candidates we've met today and I personally would invest in most of them!"
The big decision
After several hours of deliberation, our judges finally came to a decision. Our top five were revealed by Laurent Laccassagne, followed by a wave of congratulations amongst our entrepreneurs.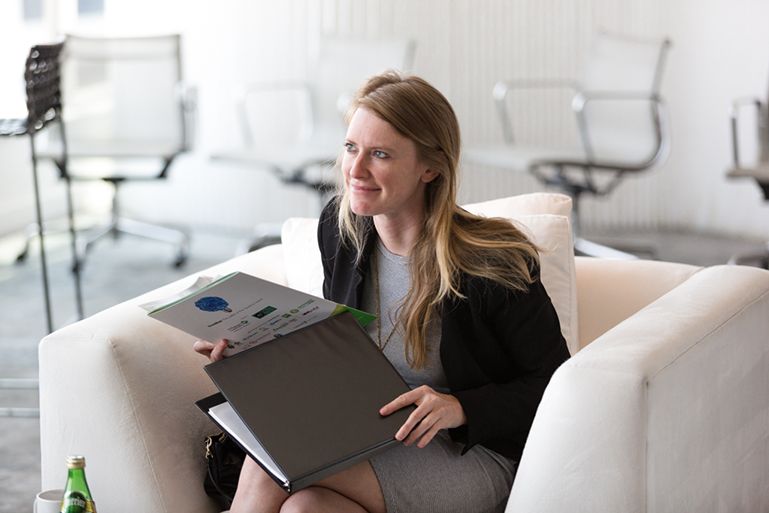 We caught up with Bridget Hilton to ask what tipped the scales:
"It was extremely difficult to narrow down the finalists because I think any one of them could win the competition. We were really looking for a diverse group of people who are looking to change the world, and it's particularly important that each finalist has a great business plan behind the idea. For me, I also looked to pick businesses which could scale globally rather than focussing on a particular local area. Intendu is a great example – every single family in the world deals with a brain impairment or mental health issue at some point."
The celebrations
After the announcement, all 30 of our social entrepreneurs were reunited for our Reception at a rooftop bar in Hollywood – and we're talking views for days! This event provided our entrepreneurs with some prime-time networking opportunities, and the chance to mingle with our judges and talk to media professionals about their business propositions and passion that has driven them to this point.

As the sun set on day three, the nerves of our five finalists began to mount. One more sleep till D-Day. One more sleep till we find out who wins the lion's share of $750,000. We can't wait.

Join the conversation using #ChivasVenture and follow @ChivasVenture on Twitter for all the news from LA, highlights from the competition, and the latest stories, ideas and individuals that are helping to shape our future.