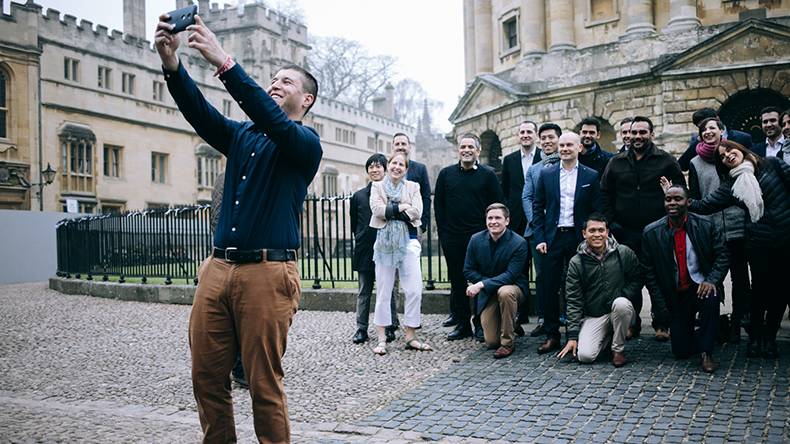 Follow The Venture finalists on Twitter during the voting stage of the competition as they advance to the Final in New York City.
From the 9th May to the 13th June, you will be able to vote for your favourite finalist. Over the course of five weeks, your vote will determine how the first $250,000 in funding is split among the finalists. The remaining $750,000 in funding will be awarded at The Venture Final in July in New York City, after a high stakes pitch in front of The Venture judges.
From a startup that helps doctors preserve lifesaving medicines with electricity-independent refrigerators, to a peer-to-peer knowledge-sharing platform for small scale farmers around the world with no internet, each of The Venture finalists showcase the creativity and ingenuity within the startup community.
For instant insights into their unique startups and updates on The Venture and their experiences of the competition to date, you can follow the finalists on Twitter at the handles below.
Incluyeme: The job portal in Latin America for people with disabilities.
Twitter handle: @incluyemecom
Pollinate Energy: Providing clean energy solutions that improve lives in India.
Twitter handle: @PollinateEnergy
Epitrack: Predicting and preventing epidemics through crowdsourced data.
Twitter handle: @epitrack
Bee Smart Technologies: Saving bees through technology.
Twitter handle: @beesmarttech
Diagnochip: Diagnosing infectious diseases cheaply and efficiently.
Twitter handle:@diagnochip
MotionECO: Making food safer and reducing transport pollution.
Twitter handle: @MotionecoChina
Conceptos Plásticos: Recycling plastic to build houses in Colombia.
Twitter handle: @conceptosplast
ECO Mensajería:The completely sustainable courier service.
Twitter handle: Sentab: A social network helping to fight loneliness in old age.
Twitter handle: @SentabUK
Coolar: Helping doctors preserve lifesaving medicines by providing electricity-independent refrigerators.
Twitter handle: @CoolarTech
Wakami: The fashion brand that transforms cycles of poverty into cycles of prosperity in rural communities.
Twitter handle: @Wakamiglobal
Taka Solutions: Making buildings more energy efficient using technology.
Twitter handle: @takasolutions
JOBDOH: Transforming the casual labour market by connecting available jobs with quality temporary labour.
Twitter handle: @jobdoh
EyeControl: Giving 'locked-in' people the freedom to communicate.
Twitter handle: @EyeControl
Optic Group ICH: Bringing vision to the poor with eco-friendly glasses.
Twitter handle: @VisionICH
Fresh Direct: Uniting communities through organic, agricultural production
Twitter handle: @FreshDirectNG
PowerMundo: Helping families live healthy and happy lives by providing access to energy
Twitter handle: @powermundo
Migam: The platform helping deaf people in Poland communicate with society.
Twitter handle: @Migam_Aga
ColorADD: A universal code for those with colorblindness.
Twitter handle: @coloraddoficial
SafeDrive: Saving lives and money with an app that discourages texting whilst driving.
Twitter handle: @safedrive_app
CrashDetech: The mobile app providing real-time data that helps reduce roadside fatalities.
Twitter handle: @CrashDetech
AlzhUp: Digitising therapies to help Alzheimer's patients.
Twitter handle: @Alzhup
Local Alike: Preserving local cultures and promoting community-based tourism in Thailand.
Twitter handle: @localalike
WeFarm: The knowledge sharing platform for farmers without internet access.
Twitter handle: @we_farm
Disease Diagnostic Group: Screening, tracking, and diagnosing highly infectious tropical diseases through portable and reusable devices.
Twitter handle: @WEareDDG
MOLCURE: Helping pharmaceutical companies identify antibody drug candidates for emerging diseases.
Facebook handle: facebook.com/molcure/
Habitec: Manufacturing wooden furniture for Angolan schools.
No twitter.

Follow @TheVenture on Twitter for all the highlights from the competition, and the latest stories, ideas and individuals that are helping to shape our future.